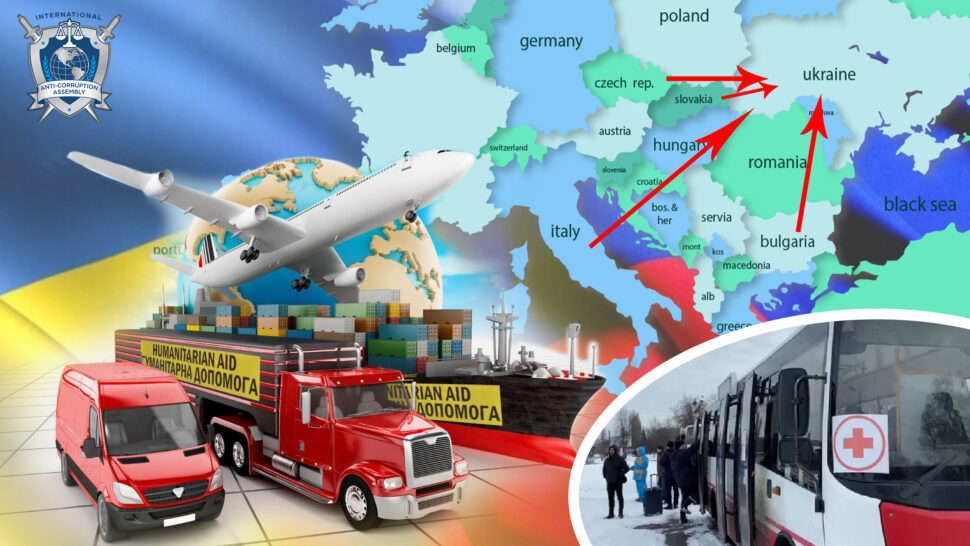 Within the open project «Initiative of the Present» the International public organization «International Anti-corruption Assembly» which representative offices are in six countries of Europe unites and controls the checked links of a cycle on rendering the international humanitarian aid (charity foundations, the volunteer organizations, logistic warehouses, carriers, beneficiaries and other participants).
Due to the circumstances which developed in Ukraine many citizens of the country are forced to leave the houses and to go abroad. Since the beginning of the open armed aggression of Russia against Ukraine, the humanitarian headquarters, volunteer associations and the coordination centers providing displaced persons with necessary things, medical goods, means of hygiene, food and other humanitarian aid to persons in need who are open not only in Ukraine, but also in Europe began to work.
Representatives of the international public organization «International Anti-corruption Assembly» also did not stand aside and by means of public figures of the countries organized warehouses of humanitarian aid.
If you need the help in delivery, sending, warehousing, or on other questions address to the coordination centers of the address and which contacts are placed below.
Ukraine
Warehouse addresses:
1. Transcarpathian region, Khust.
st. Ivan Franko 187/A
2. Transcarpathian region
Khust district
Dragovo village
st. Dubniki 2
Contacts:
Alechko Bogdan Stepanovich
+38 0673126736

Italy
Province of Brescia.
10 km from the center of Brescia.
Warehouse address:
via G. Pastore 31,
25082 Botticino (BS)
Contacts:
Roman Romansky
+39 366 4404955
Watsap
+380 980979190
Czech
Czech Republic,
Stredotsky region.
60 km from Prague.
Warehouse address:
280 02 Kolin, Havlichkova 261
Contacts:
Vadim Kovalchuk
+420 727948277
Slovakia
Kosice
Warehouse address:
Globaltrading Slovakia, s.r.o.
SNP 6
044 42 Rozhanovce
Contacts:
Ivan Kopchik
+421948629912